Old soldiers never die, they simply fade away.
— General MacArthur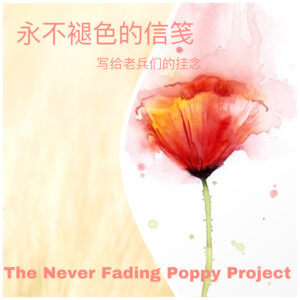 Where are the veterans now? What have they been up to? What do they enjoy? What are their perks and personalities?…
These thoughts were racing around in the minds of young girls who decided to reach out and write to the veterans.
They cared about the past. They created cards with love. They wrote their appreciations, questions, and thoughts. Here, generations of American citizens connect through letters, drawings, and more.
This card-writing project is an exchange between young teenagers and veterans at the Bedford Veterans Administration Hospital. There are over 100 veterans in long-term care, ready to receive laughter and love within these cards.
This is how the Never Fading Poppy Project was created, through ideas of young children who have always wanted to learn more about American history, cherish the peace earned by brave soldiers, and say their thanks who contributed to the country.
These special cards are not store-bought, instead, they are crafted with just a blank paper and creativity. We are not looking for art prodigies out there, but instead, those who care and will put their hearts into these cards. No matter what the end product looks like, art is subjective, and we believe that as long as anyone sets their heart to it, it will turn out absolutely beautiful. Here are a few things to keep in mind when making the cards.
The card must have some sort of color and design, not just a card with just the words "Thank You" written on it. Creativity is endless!
The cards should have a short note of introduction to the veteran on the inside of the card. The thoughtful message should start with a greeting and introduction (name, age, grade, school, fun fact, etc.), next ask them about themselves or add any other comments if needed. Finally, sign off with something along the lines of "Thank you for your service!" (If you would like to hear back from the veterans, feel free to add that to your card and invite them to write back as pen pals).
The cards must be placed within envelopes, the name of the veteran visibly on the front of the envelope. Please do not include a return address.